Advanced Dental Technology – West Caldwell, NJ
Using the Latest Technology for Streamlined, Comfortable Visits
Dr. Magid is passionate about staying up-to-date with the latest dental technology in West Caldwell, not just for diagnostic precision and the best treatment results, but also to make each of your visits as streamlined and comfortable as possible. Read more about the instruments we use to help us plan all of our dental treatments, from diagnosing potential issues to planning dental implant surgery.
Cone Beam CT Scanner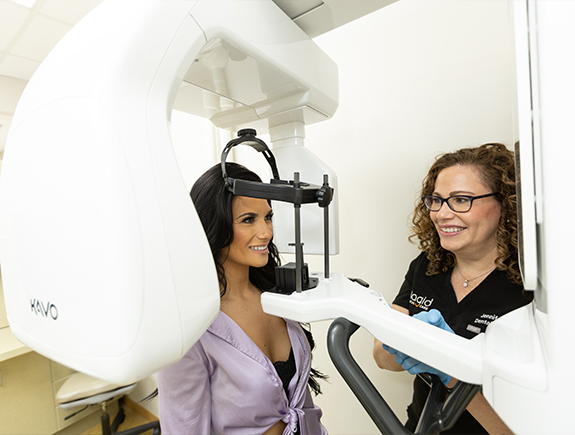 Our cone beam CT scanner is an amazing device that allows our dental team to capture detailed, high-quality 3D renderings of your entire facial structure, allowing us to view your sinuses, facial nerves, and jawbone density. We typically utilize this instrument to help us plan surgeries and other advanced therapies, like sleep apnea treatment. Not only does this device allow us to see details we can't with a traditional X-ray, but it's fast and effective, only taking about 30 seconds to capture.
Digital Dental Impressions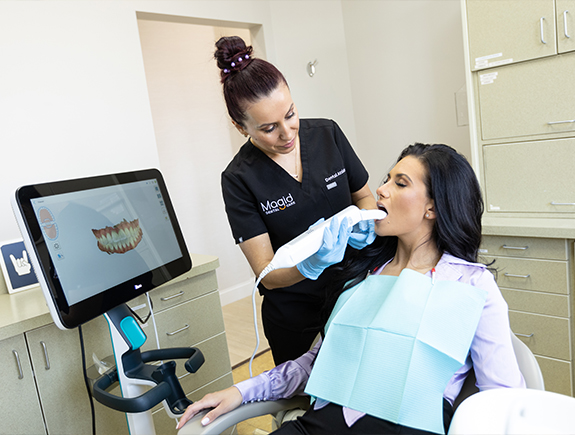 Instead of using bulky putty to take impressions of the mouth, we utilize our advanced iTero digital dental impression system. It's a wand-like device with a flared tip at the end of it that is able to create a detailed digital blueprint of the mouth, which we can then send off to our dental laboratory to craft mouthguards, sleep apnea therapy devices, restorations, and prosthetics. Due to the sophisticated and detailed nature of this dental technology, these appliances are crafted as precisely as possible for maximum effect and comfort.
Soft Tissue Laser
Soft tissue lasers are typically used for gum disease treatment because they're able to kill bacteria on-contact and allow Dr. Magid to seamlessly remove severely damaged soft tissue, only leaving healthy gums behind. The laser emits a small, concentrated beam of light and immediately cauterizes the area on contact, minimizing bleeding, discomfort, and even speeding up the healing process. It also eliminates the need for scalpels and sutures, making treatment more streamlined.
Intraoral Camera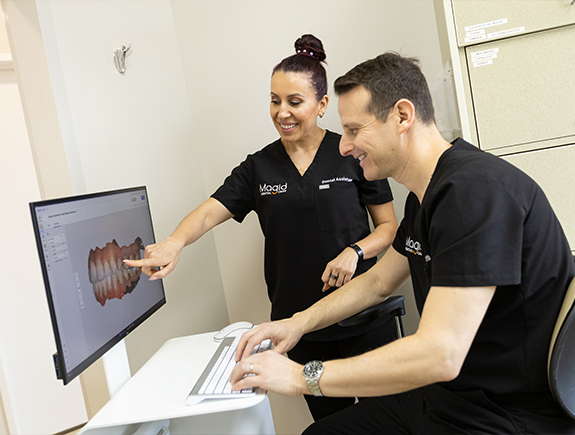 Our intraoral camera is a wand-like device, similar to our iTero digital impression system, with a camera on the end of it that can capture still images and live video footage. It serves as an excellent way to more thoroughly examine the mouth as well as educate patients about any oral health problems they may face. Some areas that aren't visible to the naked eye, like the deep crevices of the mouth, can also be investigated more thoroughly thanks to our intraoral camera.
Digital Dental X-Rays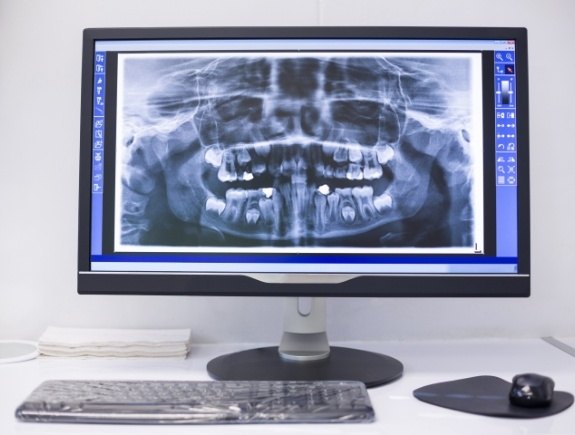 In the past, dentists would utilize film X-rays to view the area of the mouth that lies below the gumline. Today, we use modern digital dental technology that makes each of your checkups more thorough, streamlined, and detailed. Similar to the way a digital camera works, one of our dental assistants will capture the X-ray, making it immediately viewable by Dr. Magid. Advancements in the quality of the images captured also allow for more precise diagnoses.