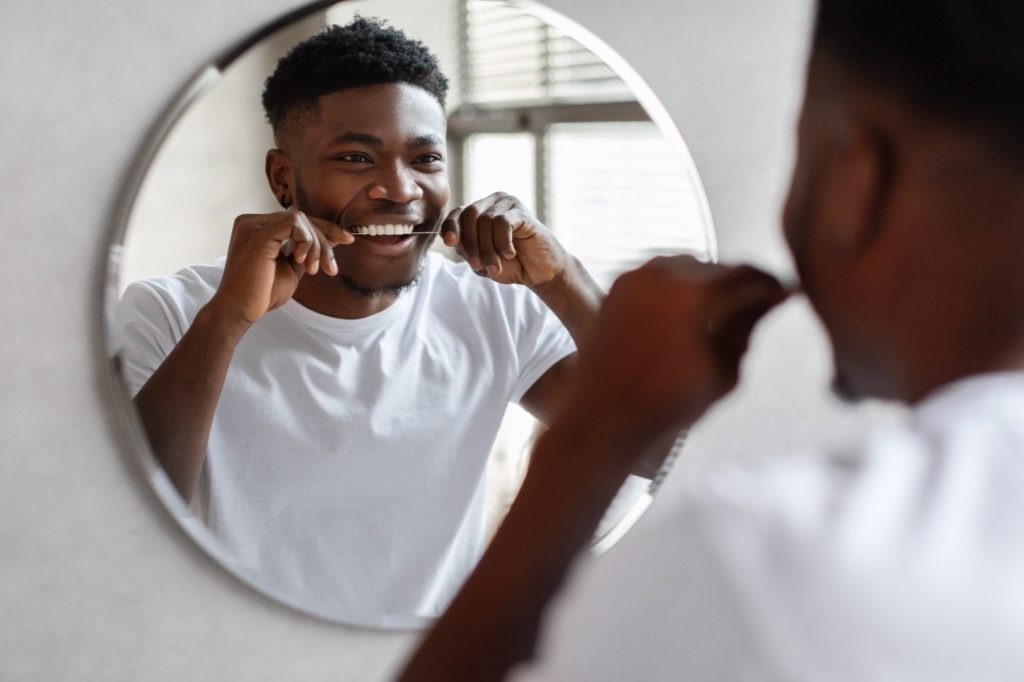 Don't floss? The Centers for Disease Control and Prevention shared that roughly 33% of Americans never do. Unfortunately, skipping this oral hygiene step can quickly wreak havoc on your gums, negatively impacting your oral and overall health in the process. In fact, recent studies have gone as far as reporting that flossing every day can save your life! To learn how, keep reading.
So, How Are Flossing and Your Lifespan Connected?
While there isn't a direct cause-and-effect relationship between the two, researchers have found a clear connection between flossing and your lifespan. Here's how it works: when you don't clean your teeth regularly, a sticky film (plaque) builds up before turning into a yellow substance (tartar). In addition to rotting your teeth, the oral bacteria that live in tartar can spread to your internal organs, increasing your risk of cardiovascular disease, rheumatoid arthritis, and even some forms of cancer.
It's also worth noting the obvious relationship between flossing and the health of your teeth. If tooth decay develops and is left alone to progress, it's only a matter of time until the tooth needs to be extracted or it falls out on its own. The new gap in your smile will make it more difficult to chew vegetables, nuts, whole fruits, and the like, which makes eating a varied, nutrient-dense diet significantly more difficult. Over time, nutritional deficiencies can result in complications, including a weakened immune system that makes you significantly more vulnerable to diseases.
How to Make Flossing a Part of Your Daily Routine
If you forget to floss every now and again, it's okay – mistakes happen. However, if you consistently don't, then it's important to start! Like any new habit, it's important to set yourself up for success. First, buy the floss of your choice and purchase backups so you aren't left in a pinch when you eventually run out. Second, place a Post-It Note on your bathroom mirror or set an alarm on your phone to remind yourself to floss each morning or evening. Lastly, give yourself a reward for accomplishing your goal of flossing every day! This will help keep you motivated until flossing becomes a normal part of your routine.
5 Additional Ways to Keep Your Oral Health in Tip-Top Shape
Of course, flossing isn't the only way to keep your teeth and gums healthy. To prevent oral health problems like tooth decay and gum disease, it's important to have a comprehensive and consistent dental care routine, such as:
Brushing for a full two minutes twice a day (or after each meal, if possible)
Rinsing with mouthwash regularly
Visiting your dentist for a checkup and cleaning every six months
Keeping sugary foods and drinks to a minimum
Avoiding unhealthy dental habits, like smoking
Simply put, flossing daily is an essential habit to implement if you want to live a long, healthy life. If you have questions about which type you should be using or what the proper technique is, don't hesitate to ask your dentist!
About the Doctor
Dr. David Magid earned his DMD from the University of Pennsylvania School of Dental Medicine, and he's spent the last 20+ years helping patients achieve healthier, happier smiles. Throughout his career, he's prioritized continuing education and advanced training and, as a result, he has earned Fellowship status in the American Academy of Implant Dentistry! Whether it's time for your next checkup, you're interested in learning more about a specialty service, or you have a question about your at-home-oral hygiene regimen, don't hesitate to visit his website or call (973) 227-9211.