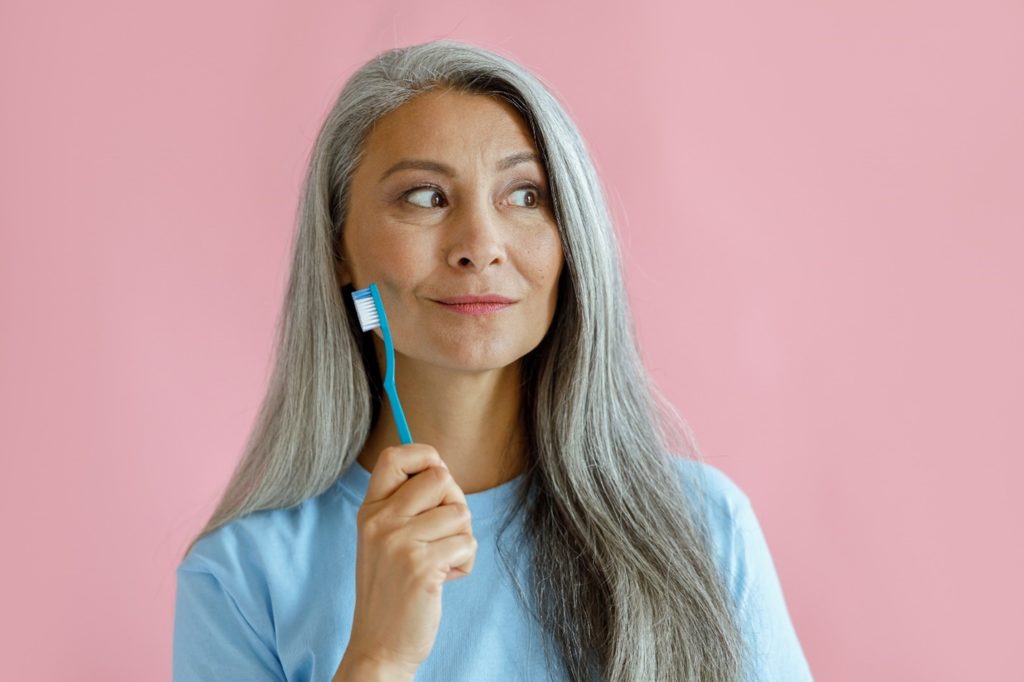 Fun fact: in 2003, the toothbrush beat out both cars and cellphones for the #1 invention people can't live without. Since this oral hygiene product plays an essential role in removing food particles, preventing cavities, and freshening breath, it's fitting! With that said, they aren't designed with longevity in mind. In fact, the American Dental Association recommends replacing it before the bristles become frayed, old, and home to numerous bacteria. So, keep reading to learn when you should change your toothbrush.
Here's How Often You Should Replace Your Toothbrush
The short answer is that you should replace your toothbrush every three or four months. Of course, there are some exceptions. For example, if you or a loved one were recently sick, then it's a good idea to throw away your current one. Similarly, if the bristles have begun to fray, use that as a sign you should get a new one (and possibly a sign that you're using too much pressure when brushing your teeth!).
What Kind of Toothbrush Should I Get?
If you're in the market for a new toothbrush, you might initially feel overwhelmed. After all, your local store probably has well over a dozen different types – and that doesn't even take into account all of the options available online! The good news is that you can quickly narrow down the search by looking for a few important things, like soft bristles and the ADA Seal of Approval. Of course, you can ask your dentist for their recommendations as well. In fact, this can be extremely helpful since they have an in-depth understanding of your specific dental needs.
How to Keep Your Toothbrush in Pristine Condition
As previously mentioned, frayed, old bristles won't effectively remove food particles, plaque, and other debris from your teeth. Fortunately, keeping your toothbrush in tip-top shape only requires a few additional steps, including:
Using the appropriate amount of pressure when brushing your teeth to avoid frayed bristles.
Rinsing your toothbrush with hot water after you're done using it to help kill bacteria.
Giving your toothbrush a deep cleaning every few weeks (some mild soap and warm water is all you need).
Cleaning your toothbrush holder regularly.
Remember, using an old toothbrush to clean your teeth is a lot like using a dirty sponge to clean your dishes. So, make sure to replace yours every quarter. To set yourself up for success, try putting a reminder on your phone or placing a Post-It Note on your bathroom mirror!
About the Practice
Our top-rated team at Magid Dental Care is proud to provide patients in and around West Caldwell with the top-tier dentistry they deserve. To accomplish this, our talented and experienced team provides patient-centered care, practices in a state-of-the-art facility, and offers multiple financial solutions. Plus, we're always here to answer any questions you have, even if it's about something as simple as your toothbrush. If you would like to get in touch with our team, visit our website or call (973) 227-9211.