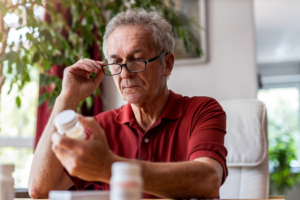 The battle against tooth decay is a lifelong endeavor; between brushing and flossing, keeping up with dental visits, and leading a healthy lifestyle, there's a lot to keep track of when it comes to protecting your pearly whites. But did you know that certain prescription medications can actually pose a threat to your teeth? This doesn't mean you should stop taking them altogether, though—rather, it's worthwhile to be mindful of some of these interactions so you can take the appropriate countermeasures to ensure optimal oral health. Here's what your dentist wants you to know.
Common Medications That Can Lead to Tooth Decay
Although prescription medication is always intended to help, many of these drugs come with side effects. At times, these unintended consequences might impact your oral health, exacerbating issues like tooth decay, gum disease, dry mouth, and more. Here are a few examples:
Immunosuppressant drugs – Following major surgeries, drugs that suppress the body's immune system are sometimes prescribed; some of these can cause excessive gum inflammation.
Antihistamines – This popular medication can restore regular breathing, but it can also inhibit saliva production which in turn dries out the mouth and allows bacteria to thrive.
Chemotherapy – The mouth's inside lining can become inflamed due to certain chemotherapy medications, which can alter the mucus membrane's functionality and contribute to tooth decay.
Aspirin – Common over-the-counter pain medications like aspirin can cause mouth sores and bleeding gums when used irresponsibly.
Antibiotics and respiratory inhalants – Certain antibiotics and inhalants can alter the way foods and drinks taste and produce a bitter or metallic flavor.
Children's syrup-based medications – Often, cough syrups made for children are sweetened with sugar, which can cause tooth decay after frequent use.
Tips for Maintaining Optimal Oral Health
The fact of the matter is, certain health issues require regular medication, which can influence your oral health. However, you can consider the following tips to ensure that no matter what your needs are, you can maintain a healthy and bright smile. Consider the following:
Strive to brush and floss your teeth on a daily basis, in addition to rinsing with an antibacterial mouthwash.
Take your medications during meals, so that they're optimally ingested. This also won't affect your teeth and gums as much, since you'll already be eating, and you'll be brushing afterward anyway.
Practice healthy lifestyle habits: enjoy a nutritious diet, drink plenty of water, get regular exercise, and refrain from smoking or using tobacco products.
Schedule routine dental visits and cleanings; these allow your dentist to inspect your mouth and ensure that it's not just free of issues—it's also radiantly clean!
The battle against tooth decay is a lifelong endeavor; however, by knowing how certain medicines interact with your oral health and taking the appropriate measures to counteract them, you can still maintain a vibrant smile despite any potentially negative interactions of your medications.
About the Author
Dr. David Magid has proudly served patients and families in the West Caldwell, NJ area for several years. Dr. Magid received his DMD from the University of Pennsylvania School of Dental Medicine and is an active member of several professional dental organizations, including the renowned Academy of General Dentistry. If you have any questions about the blog or you'd like to schedule a visit for you or someone you know, don't hesitate to contact Dr. Magid through his practice's website or by phone for further information. Telephone: (973) 227-9211.