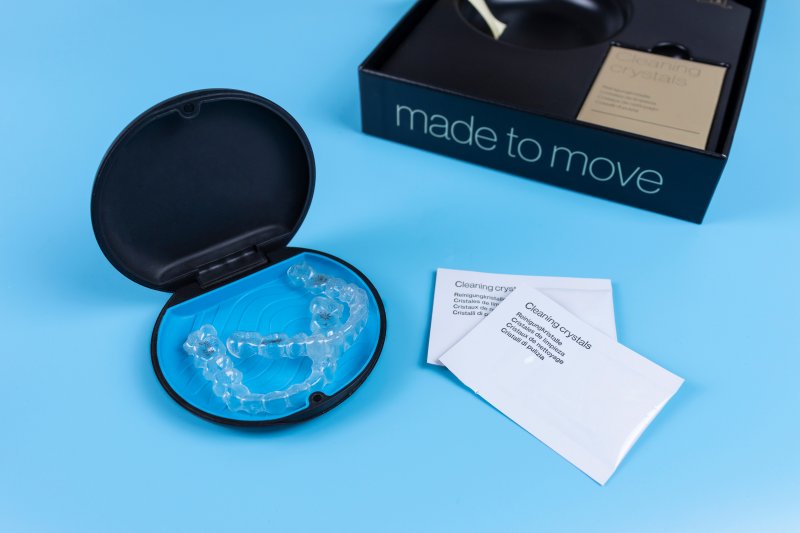 Invisalign aligners are some of the most aesthetic ways to straighten your smile. They're also removable, which makes both cleaning and eating incredibly convenient.
That said, there are a few tricks to making sure that your aligners stay as clean as possible. For example, your dentist probably gave you some Invisalign cleaning crystals when you first got your trays—here's how best to use them.
How to Use Invisalign Cleaning Crystals
These specialized crystals are designed to allow your aligners to disinfect themselves just by soaking them in a bowl or glass filled with the antibacterial solution. To use them:
Rinse your aligners under tap water to remove any large food particles.
Place your aligners into a bowl and fill it with warm (not hot!) water.
Add one packet of Invisalign crystals to the solution and agitate the bowl until the solution is mixed completely. This should take maybe 20 or 30 seconds.
Let the aligner sit in the cleaning solution for at least 15 minutes.
Gently shake the solution for another 20 seconds to loosen up any remaining plaque.
Pull the aligners out and rinse them off thoroughly with warm water.
And that's it! Cleaning crystals are a pretty easy way to keep your aligners clean. You can use them as often as twice a day, but once is usually enough to keep your trays free of plaque.
Things to Avoid When Cleaning Your Aligners
As simple as this process is, there are still some things you want to watch out for. One common mistake people make is using water that's too hot. This can cause the plastic on your aligners to warp, making them difficult to put on or seat onto your teeth. Just keep in mind that the water should be warm, but that it's better for it to be too cold than too hot.
You should also restrict the cleaning products you use to those designed for dental use, and ideally those manufactured for use on dental aligners specifically. Avoid using household cleaning products like bleach, as these can wear down your aligners over time.
About the Author
Dr. David Magid is deeply proud of all his achievements as a dentist, from his Ivy League education to his over 20 years of dental experience. But the thing that makes him proudest is the relationships he's been able to form with his patients over the years. Dr. Magid received his doctorate from the University of Pennsylvania School of Dental Medicine and his residency at Columbia University. He is a certified Invisalign provider and a member of the Academy of General Dentistry.
If you have any questions about cleaning Invisalign trays, we can be reached at our website or by phone at (973) 227-9211.